Meet the Liberty Ministry Team
"Hello" from the Dexter family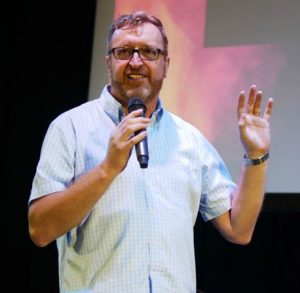 Our Senior Pastor is Adrian Dexter. He has been married to Diane since 1994 and they have a son called Jonathan who was born in 2005. Jonathan is full of life and fun. He loves Horse Riding and is in training to compete in the Special Olympics. He enjoys flying in an aeroplane to visit his Mum's family in Northern Ireland. For a long time Jonathan used Makaton sign language to communicate but recently his spoken vocabulary has greatly improved. Jonathan loves swimming, dancing and eating Pizza. He loves Jesus, and is very sensitive to the Holy Spirit and likes t0 pray and worship. Diane is originally from Northern Ireland and worked in banking for many years. Diane is our Church Administrator, and oversees the Welcome Centre and our Sunday morning Kids Church. Diane also loves to read and is a big fan of Charlotte Bronte and Jane Austin. Adrian is from Lincolnshire and moved to Rotherham with his family in 2006. He trained as an Optical Laboratory Technician and has worked in Optics since 1992. He has also been involved in church leadership since 1990. Adrian studied at Mattersey Hall Bible College where he graduated with a Master's Degree in Theology. Adrian has a passion for unity and for prayer, and leads "City Vision Rotherham" a relational network of 20 church and ministry leaders from across the borough, and also leads the South Yorkshire Prayer strategy.
Adrian has a desire to see young leaders emerge and grow in confidence and authority. Investing in and releasing those leaders to see Rotherham and South Yorkshire transformed by the power of God. He has a strong passion for Community engagement and is part of the Rotherham Together Partnership, the Independent Hate Crime Scrutiny Panel, the Multi-agency Asylum-seeker Response Forum and he is on the advisory board of Rotherham Central Children's Centre. He enjoys Northern Soul music and also is a life-long supporter of Notts County Football club.
Manny is our Associate Pastor
Emmanuel Dexter is our Associate Pastor. Originally from New York, USA, he moved to Rotherham in 2013 to be a part of the leadership of Liberty Church as our Youth Pastor and Worship Leader. Before coming to Rotherham, Manny was part of YWAM (Youth With a Mission) in London. He also served with a ministry team to pioneer a house of worship and prayer in Binghamton, New York, based on the IHOP model of harp and bowl worship. Emmanuel's heart is to see people grow deeper in their love and commitment to Jesus. He is passionate about worship, prayer, and evangelism working together to see God's kingdom break into our world and transform lives. "I have always been passionate about seeing people grow in their love for Jesus. It is not enough to just call ourselves Christians! We have to do more than just talk the talk. We have to walk out our love for Jesus in every sphere of our lives!"
Rose is our Community Pastor
Rose Flora is from Bangalore, India and is now serving as our Community Pastor at Liberty Church. She has previously served as a Schools and Youth worker for 2 and a half years through the PAIS project. Rose has completed a Masters in Business, after which she responded to the call of God to serve as a missionary overseas. Rose has experienced the healing power of God in her own life and His faithfulness has driven her passion to serve Him, reaching the unreached and encouraging and inspiring Christians to live for Jesus. Rose has a big heart for the Rotherham community and wants to see every person in need come to know Jesus and be helped in their journery to make their life better and meaningful. As Rotherham is such a culturally diverse area, Rose's role as a Community Pastor is to develop a high level of community cohesion and social integration between the church and those who access its services, with a special focus on individuals and families from Eastern Europe, Asia and Africa.
Iona Vignoles is the Worship Director here at Liberty Church, Rotherham
Her heart is for our worship at Liberty to be Holy Spirit led and centred around the presence of God. Iona studied and trained at Mattersey Hall Bible College for 3 years. During this time she developed her passion for both Spirit-led ministry and sound biblical teaching. Iona is driven by her belief that when we encounter the presence of God, an environment is created for him to minister to his people and bring healing, deliverance and salvation. Her desire is to create an environment of freedom in our worship services, where all are free to come and express their worship to God. She has a vision to develop a team that is not only strong musically, but that is able to flow prophetically; in tune with the very heart of God for his people. Iona also regularly preaches in our church services and is involved in the leadership of our youth and children's ministries. All in all, she believes that worship to God is more than just about singing songs, but is about living a lifestyle which glorifies God and she seeks to encourage the church to also view their worship in this way.
Peter Crook leads our sister church: Liberty Church, Swinton
Peter came from Adelaide, Australia. Growing up in the faith he started following Jesus in 1997 and has been trying to live faithfully towards him ever since. Peter has a Bachelor of Ministry and a Masters in Practical Theology.
Peter is married to Nicola and they have three children; Matilda, Iona and Josiah. They moved to England in 2009 where they have been working in various different expressions of church. Peter is a former youth pastor and a Christian charity worker.
The Crook family moved to Liberty Church Rotherham in 2017 were they have been involved in various different ministry roles.
Peter says: "I am passionate about people reaching their full potential in Christ through the ministry of Christ and spending time in his presence: 'Better is one day in your presence than a thousand elsewhere'.  I am passionate about seeing people stirred up in their faith to follow Christ in their everyday life, experiencing the power, freedom and presence of God in a real and tangible way. Here they can come to realise that they are free from the condemnation of the life that we lead and are a new creation in Christ, able to live in the fruits of the Spirit not in the fruits of this world."