Meet the Liberty Ministry Team
"Hello" from the Dexter family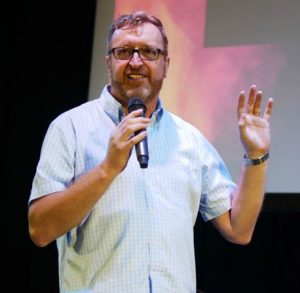 Our Senior Pastor is Adrian Dexter. He has been married to Diane since 1994 and they have a son called Jonathan who was born in 2005. Jonathan is full of life and fun. He loves Horse Riding and is in training to compete in the Special Olympics. He enjoys flying in an aeroplane to visit his Mum's family in Northern Ireland. For a long time Jonathan used Makaton sign language to communicate but recently his spoken vocabulary has greatly improved. Jonathan loves swimming, dancing and eating Pizza. He loves Jesus, and is very sensitive to the Holy Spirit and likes t0 pray and worship. Diane is originally from Northern Ireland and worked in banking for many years. Diane is our Church Administrator, and oversees the Welcome Centre and our Sunday morning Kids Church. Diane also loves to read and is a big fan of Charlotte Bronte and Jane Austin. Adrian is from Lincolnshire and moved to Rotherham with his family in 2006. He trained as an Optical Laboratory Technician and has worked in Optics since 1992. He has also been involved in church leadership since 1990. Adrian studied at Mattersey Hall Bible College where he graduated with a Master's Degree in Theology. Adrian has a passion for unity and for prayer, and leads "City Vision Rotherham" a relational network of 20 church and ministry leaders from across the borough, and also leads the South Yorkshire Prayer strategy.
Adrian has a desire to see young leaders emerge and grow in confidence and authority. Investing in and releasing those leaders to see Rotherham and South Yorkshire transformed by the power of God. He has a strong passion for Community engagement and is part of the Rotherham Together Partnership, the Independent Hate Crime Scrutiny Panel, the Multi-agency Asylum-seeker Response Forum and he is on the advisory board of Rotherham Central Children's Centre. He enjoys Northern Soul music and also is a life-long supporter of Notts County Football club.
Kingsley Paul – Assistant Pastor

As an assistant pastor for Liberty Church Kingsley supports the senior pastor to mobilise the vision of the Church. His key functions involve preaching, coordinating the worship ministry and leading the Liberty Think Tank. This group of leaders are working to build training programmes for new and existing leaders, develop structures that provide spiritual and cultural foundations for all present and future Liberty locations, review policies and procedures and create a forum for identifying solutions to resource the operational challenges that arise in ministry management across multiple locations. Kingsley's passion is to see people of all backgrounds and cultures come together for one purpose, to worship Jesus Christ. His desire is to see not just people coming to faith in Christ but also see them mature in word, prayer, worship, discipleship and their daily walk. He has a vision for a strong, healthy and spiritually mature church that is operating in all the gifts that edify the body.
Samson Debesay – Community Pastor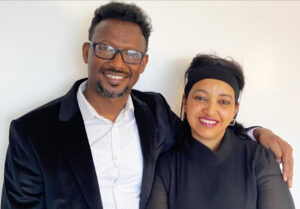 Samson is Assistant Pastor and Prayer Co-ordinator for Liberty Church. He is 45 years old and comes from the country of Eritrea. He is an accredited minister with the Assemblies of God and has a Masters of Divinity from Tyndale Theological College. Samson is married to Aki and they have three children, their eldest daughter Horeb is 19 years old, their son Yosiyas is 17 years old and their youngest daughter Eliada is 11 years old. He is passionate for fervent prayer and the word of God. His heartfelt pursuit is to see the church rising tallest and strongest on its knees in prayer. Prayer and the revealed word of God are among the essential weapons in the believer's arsenal. Every week we meet on Friday nights to pray and seek the face of God:- God moves when we pray!
Rose Flora is our Community Pastor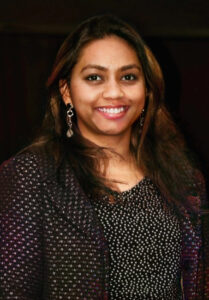 Rose is from Bangalore, India and is now serving as our Community Pastor at Liberty Church. She has previously served as a Schools and Youth worker for 2 and a half years through the PAIS project. Rose has completed a Masters in Business, after which she responded to the call of God to serve as a missionary overseas. Rose has experienced the healing power of God in her own life and His faithfulness has driven her passion to serve Him, reaching the unreached and encouraging and inspiring Christians to live for Jesus. Rose has a big heart for the Rotherham community and wants to see every person in need come to know Jesus and be helped in their journey to make their life better and meaningful. As Rotherham is such a culturally diverse area, Rose's role as a Community Pastor is to develop a high level of community cohesion and social integration between the church and those who access its services, with a special focus on individuals and families from Eastern Europe, Asia and Africa.
Liz Sullivan is our Kids Pastor
Elizabeth Sullivan, usually referred to as Liz. has been going to this church since she was a baby in 2001. She decided to become a born again Christian at the age of 10. Liz grew up going to Sunday school here and has always enjoyed it. From school she attended college and achieved Level 3 Diploma in Childcare, from there she had many jobs and went on to work in a public school for 5 years. Alongside this Since 2007 Liz also worked in the children's ministry at church. In 2014 she got married to her wonderful husband and in 2015 they had a beautiful daughter.
Liz says: "Kids ministry has always been a huge part of my heart. I've always enjoyed working in it. There are so many fun times and lots of precious moments. I always feel so blessed to work with the kids and their families. Being a children's pastor is a blessing and it's a role that I love doing. I love to see children learning all about how much they are loved and treasured by God. I also enjoy seeing kids becoming all God has created them to be with their gifting and personalities. My vision is to see children not only knowing Jesus through coming to church but actually getting to know him for themselves, just as I did when I was younger. I love to see kids worshiping and loving Jesus with all their heart. Children are such a blessing and being a part of what God has for them is an honour."
Iona Vignoles is our Worship Director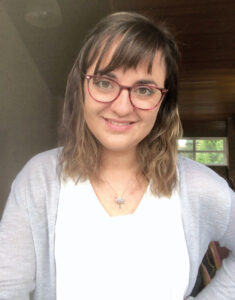 Iona's heart is for our worship at Liberty to be Holy Spirit led and centred around the presence of God. Iona studied and trained at Mattersey Hall Bible College for 3 years. During this time she developed her passion for both Spirit-led ministry and sound biblical teaching. Iona is driven by her belief that when we encounter the presence of God, an environment is created for him to minister to his people and bring healing, deliverance and salvation. Her desire is to create an environment of freedom in our worship services, where all are free to come and express their worship to God.
Iona has a vision to develop a team that is not only strong musically, but that is able to flow prophetically; in tune with the very heart of God for his people. She also regularly preaches in our church services and is involved in the leadership of our youth and children's ministries. All in all, she believes that worship to God is more than just about singing songs, but is about living a lifestyle which glorifies God and Iona seeks to encourage the church to also view their worship in this way.
Matt Bell is our Youth Co-ordinator

Matt is originally from Orlando, Florida. He is married to Sharon and has two children, Levi & Asha-Nais. Sharon is originally from the Philippines and is a Nurse with the NHS. Matt went to the Baptist College of Florida for 1 ½ years before transferring to England to the New Tribes Mission Bible Studies Course. After completing that course he stayed on in the UK to work with various churches and councils as a youth worker. Matt has over 20 years of experience working with young people in a variety of settings, including Churches, Young Offenders, D of E, Children's Homes, Adventurous Activities, School Inclusion, and Street Based teams. Not only does he have a passion to see teens and children come to know Jesus as their personal saviour, Matt also has a great desire to see these young people discipled so they can become great men and women of God. Matt says, "I want to share the love of God with young people. I want to help them learn how to have a close and intimate relationship with our Lord Jesus Christ. And I want to equip them to be able to serve God in whatever adventure He leads them into in their lives."