Managing our Mental Health during this season – Coronavirus (COVID-19)
As a church we want to help all our members, regular visitors and the wider community in maintaining healthy minds, as well as body and spirit. It is wise to have some kind of routine to your day, otherwise we can end up just getting through the day. Here is a range of resources to encourage people of all ages and backgrounds.
For I know the plans I have for you, declares the Lord, plans to prosper you and not to harm you, plans to give you hope and a future. Jeremiah 29:11 NIV
Structuring your daily routine with a Weekly Planner helps you to press on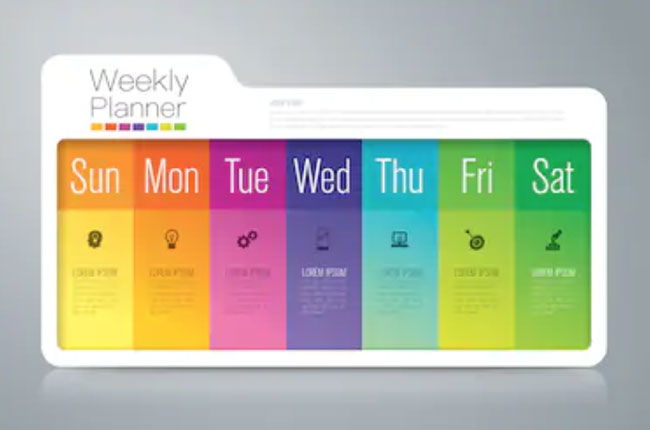 You can use an app on a mobile device or you can download/print this example >
TIP> Exercising your body stimulates your mind and is good for your soul
A little regular exercise is well known to enhance your mental health. If you are able, we recommend this short half hour exercise – Join an international audience for fun, family friendly exercise!
P.E. with Joe Wicks was a huge success during the initial lockdowns. For 2021 Joe is sharing his weekly 20 minute sessions. Check them out here 🙂
TIP> Enjoy Daily Devotions
10am each week day

TIP> Have yourself some fun!
Do something creative like making a music video 🙂
TIP> Make some head space
Clear your mind and your phone with a digital detox.
Rainbow Counselling Sheffield are a Christian counselling organisation open to people of all faiths or no faith. Check out their News Blog for some great Self Care Resources> Now accepting new referrals and offering sessions by telephone or video link. Visit their website for more info: Rainbow Counselling Sheffield >
Cast all your anxiety on him because he cares for you. 1 Peter 5:7 NIV
OTHER USEFUL LINKS
Dealing with Depression: Practical Bible Study Guides >

COVID-19 CRISIS Counselling Support Service
The Association of Christian Counsellors (ACC) have set up a new service – a Crisis Counselling Support Service (CCSS) for NHS frontline staff and people who have been bereaved during the COVID-19 epidemic in the U.K. Visit ACC's website for further information >
Need any HELPLINES?
MIND National Infoline: 0300 123 3393
Visit: www.mind.org.uk  Email: info@mind.org.uk Text: 86463
Infoline provides an information and signposting service. Open 9am to 6pm, Monday to Friday (except for bank holidays).​ Ask us about: mental health problems, where to get help near you, treatment options, advocacy services.
Anxiety UK: 03444 775 774
Monday to Friday, 9.30am to 5.30pm
Charity providing support for people diagnosed with an anxiety condition. During the coronavirus pandemic, Anxiety UK will be extending our helpline hours to provide a skeletal service over the weekend between 10am -8pm so that we can offer support to as many people as possible who need our help.
Visit: www.anxietyuk.org.uk
Samaritans
​
– Free
Phoneline
 24/7 call
116 123
Face to face visits are currently closed.
Other Mental Health Helplines
Visit NHS Resource Directory >