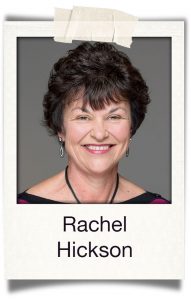 Rachel has been married to Gordon since 1981, and they have 2 married children and 5 grandchildren. Their daughter Nicola is married to Tim Douglass and they pastor a Hillsong Church in Melbourne, Australia, while their son, David, is married to Jenny and lives in Peterborough, UK, where they are part of KingsGate Church. Rachel is a daughter of missionaries, Alan and Eileen Vincent, and lived in India for 16 years as a child.
At the age of 24 Rachel, with her husband Gordon, worked alongside Reinhard Bonnke and the Christ for All Nations team in Africa. In Zimbabwe she almost lost her life in a horrific car accident, but was miraculously healed by God. After returning from Africa in 1990, Rachel and her husband, Gordon, pastored a group of four churches in Hertfordshire and it was during this time that that they established Heartcry Ministries with the call to train and equip people to be released into effective prayer and missions for their communities, cities and nations.
Rachel and Gordon moved to Oxford in May 2005, where Gordon was the Associate Minister at St Aldates until Dec 2010. Rachel and Gordon still live in Oxford, an incredible student city which has seen many great men of God like C.S.Lewis, John and Charles Wesley birthed.
Rachel travels internationally, visiting Europe, North America, Africa and India. Invitations come from various denominational backgrounds where a passion for unity has brought the churches together to pray for a move of God in their area. Rachel and Gordon have a passion to see cities transformed through the power of prayer and evangelism.
Rachel is the author of 8 books: Supernatural Communication – The Privilege of Prayer, Supernatural Breakthrough – The Heartcry for Change, published by New Wine Ministries. Stepping Stones to Freedom, Pathway of Peace, Run Your Race and Eat the Word, Speak the Word all published by Lion Hudson with study guides to accompany the teaching books too. Her most recent books are I Love Prayer and Release My Frozen Assets published by Heartcry for Change.
Check out our website: www.heartcryforchange.com